Orbitrap Fusion Lumos Mass Spectrometer

With ETD and UVPD fragmentation techniques for top-down proteomics (Thermo Scientific)
With the high-field asymmetric waveform ion mobility spectrometry (FAIMS) Pro interface for Enhanced LC/MS instrument selectivity and detection limits.
2x Q Exactive HF Mass Spectrometer

ESI-hybrid quadrupole-orbitrap (Thermo Scientific)
TSQ Vantage

ESI-triple stage quadrupole (Thermo Scientific)
for targeted protein quantitation (SRM).
Evosep One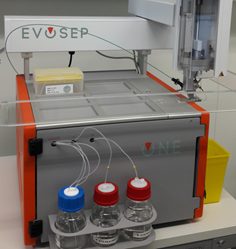 UHPLC instrument for robust and high throughput proteomics.
Barocycler

A sample preparation instrument working with pressure cycling technology. For rapid and reproducible extraction of proteins from a wide variety of cells and tissues.